York's Sacrifice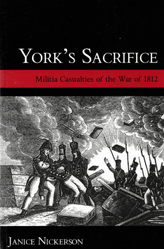 To commemorate the bicentennial of the War of 1812, the City of Toronto Museum Services created a Book of Remembrance for the casualties of the Battle of York, and the men of the York militia regiments who died during the war. I was hired to research the lives of the militia men and their families. I discovered far too much to include in the Book of Remembrance, so I compiled it into a book.
York's Sacrifice profiles 39 men who lost their lives during the war. Where possible, biographies include information about each man's origin, residence, occupation, civic life, family, militia service and circumstances of death.
A section on records provides detailed guidance in finding and using records from the period to trace an ancestor's militia service and life in this difficult time period.

---
Crime and Punishment in Upper Canada:
A Researcher's Guide
Have you ever wondered about who kept the peace in Upper Canada (early Ontario)? What happened if someone stole your ancestor's horse? Did your ancestors ever have to serve on a jury or testify against their neighbours in court? Did they work for the district government as a clerk, sheriff or jail keeper? Were your own ancestors ever drunk and disorderly, or worse? My book covers all these topics and more!
You'll learn about the early Ontario justice system: the laws, the crime statistics, the court system and the punishments. You'll meet interesting characters - from Justices of the Peace to petty (and not so petty) criminals. And you'll learn about the records you can use to discover your own ancestor's stories.
You can get your copy from the publishers, Dundurn Press and the Ontario Genealogical Society, or contact me and I'll be happy to sell you a personally signed copy ($19.99 plus shipping and taxes).
---
Saving Family Memories:
A Step-by Step Guide to Interviewing Relatives (Moorshead Magazines, 2009)
This booklet takes you step-by-step through the process of interviewing your relatives about family history. With sections on recording the interview, getting reluctant people to share their stories and preparing the results for publication or distribution, Saving Family Memories provides everything you need to know to get started right away! Appendices offer hundreds of sample questions on topics ranging from immigration to family legends to inherited traits.
Purchase your copy from the publishers, Moorshead Magazines or contact me for a personally signed copy ($8 plus shipping and taxes).
---
101 Best Genealogy Research Tips
(Moorshead Magazines, 2006)
This compilation of Janice Nickerson's favourite research tips covers everything from practical suggestions for working in archives to strategies for getting past those brick walls. This booklet is not for beginners.
Purchase your copy from the publishers, Moorshead Magazines, or contact me for a personally signed copy ($8 plus shipping and taxes).
---
Articles
Available through Lulu.com:
"Top Ten Ways to Identify Your Ancestor's Birthplace"
"101 Genealogy Records You Might Have Missed"
"Genealogy on a Shoestring Budget"
Each of these articles is available through Lulu.com as an electronic download for $1.25


---
Upper Canada - voices from the past
This bi-monthly newsletter offered a unique way to learn about life in Ontario between 1791 and 1841. It featured excerpts from period diaries, journals and letters, articles about various aspects of life in Upper Canada, advertisements and articles from period newspapers and book reviews of interest to the period.
To view a free sample, please




(Please note that this file is in PDF format and requires Adobe Acrobat Reader. If you don't have Acrobat Reader please

a free copy of the latest version.
Back issues are available for sale at a price of $3.00 (plus taxes) per issue in Electronic Format (PDF). Please contact me by email to order.
---