About Upper Canada Genealogy
Upper Canada Genealogy is dedicated to helping people learn about their early Ontario ancestors. In founding this company, I decided to focus on the Upper Canada period - 1791 to1841 - because it is the toughest to research (for beginners and professionals alike!). In this period, there are no colony-wide censuses, no civil registration (certificates of birth, marriage and death) and no centralized repository for church records. However, this doesn't mean that research is impossible in this period - far from it! It just takes a little more time, effort and expertise.

This is where Upper Canada Genealogy comes in. My goal is to provide the best and most comprehensive set of resources for family history research in this period. This includes professional research services, indexes to hard-to-access records, free reference resources with information about Upper Canada history, geography and resource centres, and links to other useful sites.

Janice Nickerson
---
About Janice Nickerson, MA, UE


Family history research has been my passion for over 35 years. In my spare time I pored through books in libraries, squinted at microfilm in archives and wrote letters to ever increasing numbers of relatives. In university, my research projects invariably focused on some aspect of my family's history!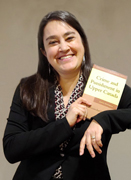 After studying anthropology in graduate school, I decided to make genealogy my life's work, specializing in Upper Canada to help others researching in this difficult period and location. Since that time, I've developed additional speciaties in fur trade research, criminal justice records, and turning bare bones genealogies into full-fledged family histories.
In addition to researching my clients' family histories, I also do heir searching for the Public Trustee, give talks to genealogical societies and write for genealogical magazines.
Special projects have included providing "behind-the-scenes" genealogical research for the CBC TV program "Who Do You Think You Are?" (aired October 2007 to February 2008) and working with the Toronto Museum Services to identify and commemorate the Upper Canadian militia men from the York region who died in the war of 1812.

I also lecture to groups throughout Ontario on the following topics:
Justice in Upper Canada

Biographical research on Upper Canada families

Pre-confederation research in Ontario, Canada West and Upper Canada

Research Tips
Applying the Genealogical Proof Standard to Ontario research
Sharing family history with your family
Contact me for specific lecture titles and descriptions or new topic ideas.

Lecture Fee: $150 (+HST)

Expenses: Travel, meals and accommodation for lectures outside Toronto


As a member of the Association of Professional Genealogists (and past chair of the Ontario chapter), I support its stringent code of ethics, including the principles of truthfulness, clarity and accuracy, and a commitment to support the collection and preservation of historical and genealogical records.

I am a proud 8th-generation Canadian, with English, German, Irish, Welsh and First Nations ancestry.
---
Comments, suggestions and questions about any aspect of this website or the products and services we offer are welcome. Please contact me by e-mail, or by mail at:
Upper Canada Genealogy, Suite 2807, 33 Isabella Street, Toronto, Ontario M4Y 2P7