Website Links and Reviews
This page provides links and reviews of the best websites for Upper Canada family history research. These sites have been especially chosen for their usefulness in researching this difficult period. While there are a great many websites that discuss the topic of genealogy and provide resources of various kinds, there are far fewer that are particularly helpful for early Ontario in the years 1791-1841. Additions to this list will be made over time as I discover valuable websites for the period.
---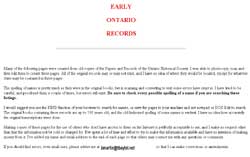 This website is loaded with free Upper Canada data from across the province. As Mr. Martin explains in his introduction, many of the pages were created by photocopying and scanning articles published in old issues (now copyright free) of The Papers and Records of the Ontario Historical Society. These articles include transcriptions of church registers from the late 1700s and early 1800s, lists of United Empire Loyalists and early assessment rolls. The pages are not indexed, but there is a search engine on the site that can be used to locate references to your ancestor's name. As these are not the original records, the information should be verified by other records if at all possible.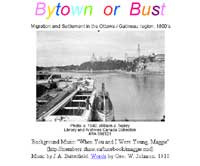 This site is a fantastic resource for people with Irish roots in the Ottawa area, particularly if your ancestors arrived in the early years (before 1850). The site includes all kinds of historical information about the various groups of early immigrants (including the conditions they were leaving behind in Ireland), biographical and genealogical information about a great many early immigrants to the area (some compiled by the site owner, others submitted by other genealogists), and indexes and transcripts to all kinds of early records including church records, censuses and immigration lists. There are also links to many other sites and resources and a full bibliography of sources for those who want to dig deeper. There is also a search engine is provided to help you wade through the vast quantity of information on this site.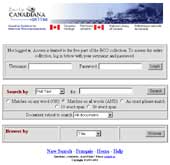 This website contains a searchable database of the full text of more than 3,000 books and pamphlets from the Canadian Institute for Historical Microreproduction. These publications cover the period from first European contact to the late 19th century. A search using the keywords "Upper Canada" returns 610 documents including biographical encyclopedias, traveller's accounts, government reports, settler's reminiscences and journals, poetry, missionaries' reports, settler's guides, academic papers, novels, and much more! You probably won't find your ancestor's name in these texts, but you will find lots of interesting and useful information to help you understand the period in which your ancestor lived.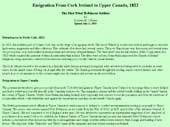 This site, maintained by Roberta O'Brien, provides information about the first set of Peter Robinson settlers, Irish immigrants from County Cork who were assisted in their immigration to Canada by the British government. In addition to a general historical description, the site includes two lists of passengers, and links to other websites about the Peter Robinson settlement, Irish immigrants to Canada, and Irish history.
Global Gazette is a huge archive of genealogical articles, mostly pertaining to Canadian research. All of the articles are excellent, but the most helpful for Upper Canada researchers may be the section on Loyalists which includes detailed accounts of loyalist history and records, and several militia regiment rolls for 1790.
Granny's Genealogy Garden:

This set of three "garden patches" offers a variety of indexed records for the genealogist whose ancestors lived in Carleton, Lambton, Lanark, and Middlesex Counties.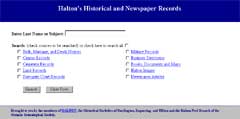 Halinet is a huge searchable database of Halton County historical records including: Birth, Marriage, and Death Notices, Military Records, Census Records, Business Directories, Cemetery Records, Books, Documents and Maps, Land Records, Photographs, Surrogate Court Records, and Newspaper Articles.
This website focusses on immigration information and includes passenger lists, accounts of ship crossings by passengers, government reports on immigration, and period handbooks for emigrants. Most of the information is for the post-Upper Canada period, but there are several useful lists and texts for this period as well. In addition, there is a collection of helpful information on child immigration schemes from 1833 to 1939.

The Archives of Ontario now has its catalogue of library materials, archival collections and images available for searching on-line. You can search the archival collection by keyword, record type and year range, while the images and library collection can be searched by keywords only. You may find that someone has donated some old letters, diaries, or business papers written by your ancestor!
The OCFA is one of the best tools available for identifying geographical concentrations of particular surnames in Ontario. This searchable database of names found on gravestones in cemeteries across Ontario contains over 2 million names and is believed to include data from over 60% of the cemeteries in Ontario. The database consists of the surnames, given names, cemetery name and location of interments in Ontario. The file does not contain the transcriptions themselves or any dates (the gravestones included span the full range of time from the first European settlements up to the 1970s), so if you find an entry of interest, you must then contact the society that published the transcription, or search the copies available in the Canadiana collection at the North York Public Library (there is also a smaller collection available at the Archives of Ontario).
This website will help you locate a village, town, or city in Ontario and find out what county or district it belongs to now, and in the past. The database includes many old names that have since been changed and now contains nearly 10,000 place names. If you've got a place name, and can't find it on a map, try this database.
This searchable database includes information from a variety of sources such as early District marriage registers, will indexes, marriage bonds, local histories and newspaper notices. The information was compiled by Mr. Darryl Bonk and made available by the Oxford County Library. If you have ancestors from Oxford County, this resource should help.
---